One Consistent Platform with Windows Azure Pack
Posted by Marina Monteil in IT News
Introducing Windows Azure Pack for Private & Hybrid Clouds
Today everybody is talking about cloud and the benefits of cloud computing such as pooled resources, self-service, elasticity and pay-as-you-go. But as companies move away from traditional on-premises datacentres, they are also concerned about security, compliance and compatibility issues in the public cloud.
So how do you take advantage of what the cloud has to offer without putting in jeopardy the security and reputation of your company? The answer to that question can lie in a private cloud, or better yet, in a hybrid cloud solution. And that is exactly what Windows Azure Pack for Private and Hybrid Clouds is all about.  
Introducing Windows Azure Pack - Microsoft Azure's Datacentre Brother
Understanding that not every business was ready to move to the public cloud, Microsoft took a hard look at its Azure public cloud offering and considered how the best of the technology and features could be provided in a private cloud environment. This solution is Windows Azure Pack (WAP) for Private and Hybrid Clouds.
WAP is a set of Microsoft Azure technologies running on top of Windows Server 2012 R2 and System Center 2012 R2. This free add-on package brings many of the benefits of Microsoft's investment in their own Azure cloud to datacentre customers. Meaning that Microsoft is leveraging its cloud technology experience to allow both enterprises and hosting providers to run their own clouds. With WAP, Microsoft is to date the only global public cloud player offering one consistent experience across public, private and hybrid clouds.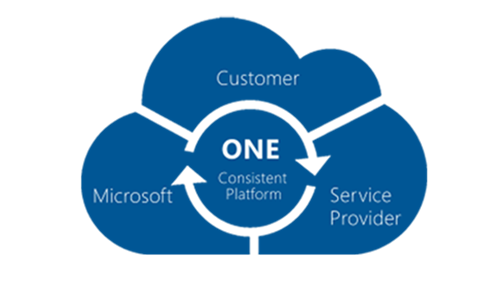 WAP for Private and Hybrid Clouds simplifies the cloud thanks to a consistent cloud platform for application developers, IT staff, managers and users alike.
As shown below, the user experience on Microsoft Azure public cloud and on private clouds using WAP is very similar. And since WAP for Private and Hybrid Clouds is technology-agnostic, companies can keep the platforms and technologies they have already invested in.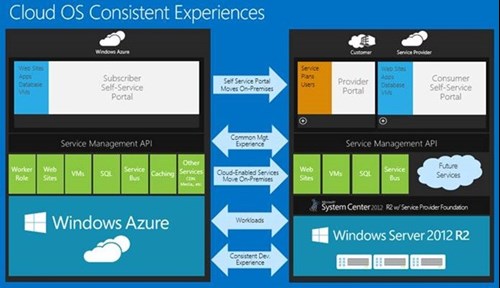 The main difference with Microsoft Azure public cloud is the addition of an administrator portal that can be used by the IT staff of enterprises running their own on-premises private cloud or by hosting providers who partner with Microsoft such as Extraordinary.
Windows Azure Pack Capabilities
Windows Azure Pack currently offers a number of capabilities.
The Consumer Self-Service Portal is a customisable control panel that tenants use to provision, monitor and manage services such as Web Sites, Virtual Machines, Databases and Service Busses.
The Provider Portal is the control panel that administrators use to configure and manage resource clouds, user accounts, tenant offers, quotas, and pricing.
The Service Management API helps enable a number of integration scenarios, from custom portals to billing systems.
Services currently include Web Sites, Virtual Machines, Service Bus and Databases:
The Web Sites service provides a high-density, scalable shared web hosting platform for ASP.NET, PHP, and Node.js web applications. A customizable web application gallery is included.

The Virtual Machines service provides Infrastructure-as-a-Service (IaaS) capabilities for both Windows and Linux VMs. It includes a VM template gallery, scaling options as well as virtual networking capabilities.

The Databases service provides database instances for both Microsoft SQL and MySQL.

The Service Bus provides reliable messaging between all applications, including queued and topic-based publish/subscribe capabilities.
Windows Azure Pack Benefits
These Microsoft tools allow companies to easily deploy a multi-cloud strategy. You can carefully choose what you put in the cloud, where, when and how:
You decide what type 

of applications and data you move to the cloud.

You decide if you want them on a private cloud or on a public cloud.

You don't have to move everything at once, you can go step by step.

You can leverage the equipment and technologies you already have invested in.

And you can decide if you want it to be managed on-premises or through a hosting provider.
Private Cloud Benefits
Some of the reasons business prefer a private cloud environment:
They might be dealing with highly sensitive data that require a higher level of security than the one offered on a public cloud

Regulations might impose that their data be stored in a specific geographical area where their public cloud provider is not located

The standard levels of control, customisation and support offered through their public cloud provider might not be sufficient to meet their particular needs

A Private Cloud will offer dedicated rather than shared resources.
WAP for Private and Hybrid Clouds provides an "Azure-like" experience for people who are already familiar with Microsoft Azure public cloud.  For those of you who have just started thinking about moving part of your IT to the cloud, thanks to this set of common technologies, it will become easier to create a hybrid solution combining all scenarios from on premise to private and public clouds, carefully selecting the best approach according to your needs.
What is the role for Cloud Hosting Providers?
Needless to say that WAP for Private and Hybrid Clouds has been created with hosting providers in mind, justifying the inclusion of an Administrator/Provider Portal.
Although it is inaccurate to say that on-premises datacentres will one day entirely disappear, a shift in IT management has already happened. Company executives want to allow their IT staff to focus on their core responsibilities by transferring a number of their duties to hosting providers.
With WAP for Private and Hybrid Clouds, hosting providers such as Extraordinary can combine their expert knowledge with a proven Microsoft technology that fits into a larger environment and is used globally.
Acknowledging that standard public clouds cannot suit every company or scenario, Microsoft has created a technology enabling them to work hand in hand with hosting providers.